Home

/

Prime Factorization Calculator
Prime Factorization Calculator
Insert the value and click calculate button to get the prime factors by using this prime factorization calculator.
Prime Factorization Calculator
Prime factorization calculator is a tool that is used to calculate the prime factors of a given number.
What is meant by prime factorization?
Prime factorization is a mathematical process that involves decomposing a positive integer into its prime factors. Prime factors are the prime numbers that, when multiplied together, result in the original number. To determine the prime factorization of a number, you identify the prime numbers that divide the given number evenly.
How to find prime factors?
Example 1:
Determine the prime factors of 342.
Solution
The Prime Factorization is:
2 × 3 × 3 × 19
In Exponential Form:
342 = 2 × 32 × 19
CSV Format:
2, 3, 3, 19
The Prime Factor Tree is: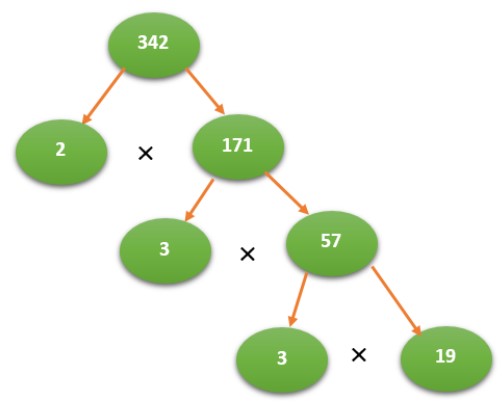 Example 2:
Determine the prime factors of 625.
Solution
Step 1:
The Prime Factorization is:
5 × 5 × 5 × 5
Step 2:
In Exponential Form:
625 = 54
CSV Format:
5, 5, 5, 5
Step 3:
The Prime Factor Tree is: