Home

/

Point Slope Form Calculator
Point Slope Form Calculator
Enter the values of X1, Y1, and (m) in the below input boxes and hit the Calculate button to get the equation of a straight line using point slope form calculator.
Point slope calculator is an online tool developed to find the equation of a straight line using the slope and point on that line.
What is point-slope?
Point slope form is a general form for linear equations. It highlights the slope of the line and a point on the line. You can find the equation in the below section.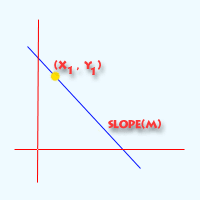 Point slope formula
The point slope equation can be expressed as:
y - y1 = m(x- x1)
Where,
m is the slope, and
x1, y1 are the coordinates of a point.
How to find equation of a line?
To find equation of a straight line without a slope intercept form calculator, follow the below example.
Example:
Find the equation of a line whose known points are (2, 3) and slope of line is 8.
Solution:
Step 1: Identify and write down the values.
x1 = 2
y1 = 3
m = 8
Step 2: Place the values in the point slope formula and solve the equation.
y - y1 = m(x- x1)
y – 3 = 8(x - 2)
y – 3 = 8x – 16
8x – 16 – y + 3 = 0
8x – 13 – y = 0
y = 8x – 13